Resources
Below are some sites we find useful to help us find information and authoritative guidance. We recommend you use us for your resource for accounting and tax advice.
---
The American Institute of Certified Public Accountants (AICPA)
The world's largest association representing the accounting profession, with nearly 370,000 members in 128 countries. The AICPA sets ethical standards for the profession and U.S. auditing standards for audits of private companies, non-profit organizations, federal, state and local governments. It develops and grades the Uniform CPA Examination.
---
Employee Benefit Plan Audit Quality Center (The Center)
The center is a voluntary membership organization established to promote the quality of employee benefit plan audits. As a member, we gain access to comprehensive resources that assist us in further enhancing the quality of the employee benefit plan audits we service.
---
Governmental Audit Quality Center
The Governmental Audit Quality Center (GAQC) promotes the importance of quality governmental audits and the value of such audits to purchasers of governmental audit services. GAQC is a voluntary membership center for CPA firms and state audit organizations that perform governmental audits.
---
BDO Alliance USA
We are an independent member of the BDO Alliance USA, a nationwide association of independently owned local and regional accounting, consulting and service firms with similar client service goals. The BDO Alliance USA presents an opportunity for firms to expand services to clients without jeopardizing our existing relationships or our autonomy by accessing the resources of BDO USA, LLP and other Alliance members. The BDO Alliance USA was developed to provide Member firms with an alternative strategy for gaining competitive advantage in the face of a changing business landscape. The Alliance represents an opportunity for BDO to enhance relationships with reputable firms that share a mutual business understanding. The BDO Alliance USA is a subsidiary of BDO USA, LLP, a Delaware limited liability partnership.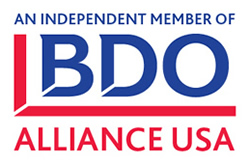 ---
The ESOP Association
A National non-profit membership organization representing the interests of all corporations that sponsor employee stock ownership plans. They provide advocacy and educational services on behalf of their members.
---
Financial Accounting Standards Board
The mission of the Financial Accounting Standards Board is to establish and improve standards of financial accounting and reporting for the guidance and education of the public, including issuers, auditors, and users of financial information.
---
GuideStar
Gathers and publicizes information about nonprofit organizations.Their mission is to revolutionize philanthropy by providing information that advances transparency, enables users to make better decisions, and encourages charitable giving.
---
Healthcare Financial Management Association (HFMA)
HFMA is the nation's leading personal membership organization for healthcare financial management professionals. Through their programs, publications and partnerships they enhance the capabilities that strengthen not only individual careers, but also the organizations from which their members come.
---
Internal Revenue Service
Home of the IRS on the Web.
---
The Manufacturers Association of Central New York (MACNY)
MACNY is the employer association for Upstate New York, representing and serving the interests of manufacturers and other employers in the region.
---
New York State Department of Taxation & Finance
Home of NYS Department of Taxation and Finance.
---
New York State Society of Certified Public Accountants (NYSSCPA)
One of the largest state accounting organizations in the nation. They cultivate, promote and disseminate information regarding accountancy to its members and the general public.